Since we leave for Thailand on Friday (fuckfuckfuck) and I have a horrible cold, I have basically given up on everything: the two hundred words I am painfully slowly attempting to turn into 100, the 7 outstanding parcels currently somewhere in the capricious hands of BastardPost, my finances, my VAT, the various administrative tasks on my list ("mite powder chickens", "buy shit bags" "Just Cause", "phone bastards"). I haven't really got to grips with packing either, but never mind. As a result, I might as well be here, burdening you with my trivial thoughts. Of which I have MANY.
Blankets
1. M and I used to regale each other with our inappropriate crushes: now we are much more likely to share pictures of expensive soft furnishings. I suppose this is the way of the world, my only crushes are on chickens and goats at the moment and I do like a nice cashmere cushion cover to perv hopelessly over. We had an interesting foray recently into the world of the National Trust Shop, where the reviews are, well, everything you would hope for from the National Trust. We read them to each other.
E: "Excellent rug which goes very well in my conservatory"
M: THAT WAS MY FAVOURITE. "Love this throw. Bought it in pink at Chartwell, when we visited it on our way back to Somerset. Sadly it moults more fluff than my 3 dogs do!! I can however forgive it, as it is cosy and looks great on our bed."
E: This is weirdly specific: "This is the perfect gift for someone recovering from an operation"
M: "I was using it to cope with hot flushes and cold chills - so it was on and off me many times during the evening - maybe less of a problem if a stationary throw."
E: Hang on, is that a real one???
M: Yes. YOU CANNOT EVEN TELL ANY MORE.
E: I can't. I don't understand what a "stationary throw" is. Maybe that means I'm not as elderly as I feared?
M: Ha.
In future every conversation about soft furnishings between us must be prefaced by a discussion of how it looks in a conservatory.
Like a bird
In which F and I are struggling with December.
F: I hear a red tailed hawk outside. I wish I were a red tailed hawk
E: Hawks. So few issues with gifts. "Here's a vole. It's still warm. I regurgitated it just for you"
F: Top of the food chain. I could just fly the fuck away.
E: You could dispense with people you don't like in a few well placed pecks
F: Oh god yes. Shred them to ribbons in seconds.
E: It would be like donald trump and the bald eagle.
F: Only bloodier. I could eat warblers if I was in a bad mood. And, like, kittens.
E: Crushing skulls like stress balls.
F: Imagine if babies were eggs. IMAGINE.
E: Hmm, baby birds seem high maintenance though. I have seen those weary owls.
F: Yeah, but you could just fly away from the nest. Just leave if the babies are noisy. Come back with a snake or something.
E: True. Your bird partner would turn up and you'd be all "Oh hey, yeah, the chicks died."
F: "Whatev."
E: "I think one fell out, one got eaten by a snake?"
F: "That snake I brought turned out not to be dead, so…"
E: "What can you do?" *bird shrug* *bate*
F: "I stepped on one, oops. Let's go eat some warblers"
Thong Daeng
Join me, if you will, in my growing obsession with Thong Daeng, the King of Thailand's dog.
It may be somewhat dangerous to linger on this subject, since I was alerted to Thong Daeng's existence this morning by a
possibly now discredited story
that someone had been jailed in Thailand for insulting her. Regardless of the veracity or otherwise of this story, Thong Daeng is clearly a major figure in Thai culture, as evidenced by this set of Thong Daeng stamps: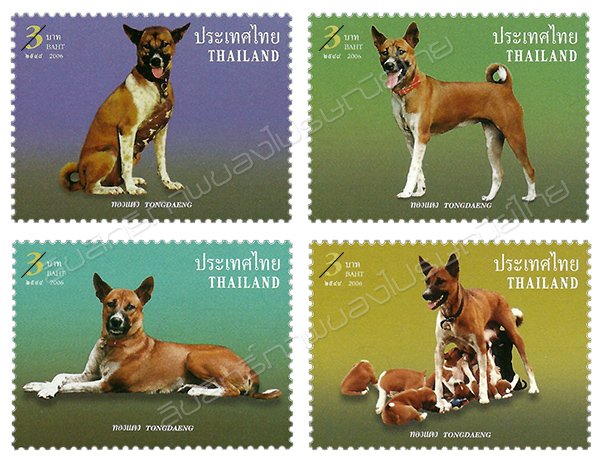 "Tongdaeng is a respectful dog with proper manners; she is humble and knows protocol. She would always sit lower than the King; even when he pulls her up to embrace her, Tongdaeng would lower herself down on the floor, her ears in a respectful drooping position, as if she would say, 'I don't dare.'"
The contrast with my own dog, who has spent much of this evening trying to have sex with a cushion, thus ruining Kirstie's Handmade Christmas for everyone, is only too stark. His knowledge of protocol is sadly lacking.
The prefix "Thong" incidentally is given to all of the King of Thailand's animals and means gold. Thong Daeng's puppies were called: Tongchompunut, Tongyod and Tong-att (female), and Tong-ake, Tongmuan, Tongtat, Tongphu, Tongyip, and Tongnoppakun (male).
The presentation page for those stamps skates, I feel, on somewhat thin ice by describing her as "a female municipal dog" which does not seem a very respectful description to me.
Schotse ei
We discussed Scotland in Dutch class this week and I very slowly and torturously, with repeated abuse of the imperfect which we have not learnt yet, told the class that when I was 14 we went on holiday to the island of Eigg. When I came back to class after the break (during which, brief digression, the vending machine chose to vend me hot water WITHOUT A CUP), this was on the OHP:
"I can't find any trace of this Scottish egg island!" said the teacher.
Percentages
80% Lemsip
10% Resignation
10% Blind panic.
You?