I am just about reaching the point where I am boring myself stupid with my own weepiness (I'm sure it's terrible for my skin too). Where is my stiff upper lip? Has its structural integrity been compromised by the creeping march of cat's arse wrinkles around my mouth? I want to be one of those terribly terribly brave,
Celia Johnson
type English women for whom any cataclysm, tragedy or mortal illness is merely 'terribly boring' or 'such a nuisance'. With the aim, then, of getting myself to shape up like an Empire builder, I am thinking of introducing some kind of punishment system: one crying jag equals one task from the evil "Admin" to do list that must be completed. Do you think this would work? It's aversion therapy with fringe benefits or something.
I also think this blog needs to be more outward looking, less mopily introspective. Going forward (for at least, oooh two days) I will be focussing on the fascinating, contradictory country in which I live. Are you afraid? You should be.
What does this mean concretely? Well, today it means more photos of peculiar, often alarming crap from the fleamarket on Place du Jeu de Balle.
I have lived in Belgium too long when I look at this monstrosity and go "Oh look! Un Gilles de Binche!"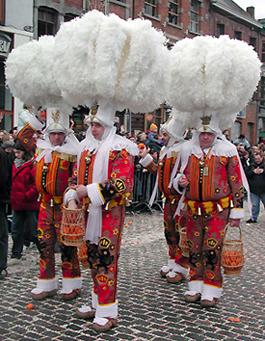 instead of running in the opposite direction, screaming.
There was a definite feathery theme today.
"That's a serial killer duck" M said, when I showed her this picture. "Look at its eyes. All those other ducks are dead".
This is one of those peculiar types of chicken the Duchess of Devonshire would know about. Though I can't imagine she'd approve of it ending up here.
This, however, is beyond explanation:
But it's ok, because look, here's a photo of spectacularly rubbish Belgian politician, Yves Leterme, holding a baby goat.
Further investigation (my policy of outward looking blogging is already bearing fruit) reveals that he was GIVEN two baby goats at the 'Foire de Libramont' by the Walloon Agriculture Minister,
M. Lutgen
, of whom I now thoroughly approve (even though he looks like a young
Leland Palmer
). Also, it turns out Yves Leterme was already a goat owner! I already feel more warm and fuzzy towards him, even though he is the prime minister who famously failed to remember his own national anthem when asked to sing it among many other, darker misdemeanours. Actually, the further I investigate, the more compelling this story becomes, Yves Leterme seems to be
given goats regularly
. Is this a perk of the Belgian premiership? Inquiring minds need to know.