Stung by accusations in the comments box that I am turning into Gwyneth Paltrow, I have decided to provide you with photographic evidence that I am not. This isn't suitable for anyone of a sensitive disposition, or any future boyfriends. Or, really, anyone.
Here is Gwynnie in a coat: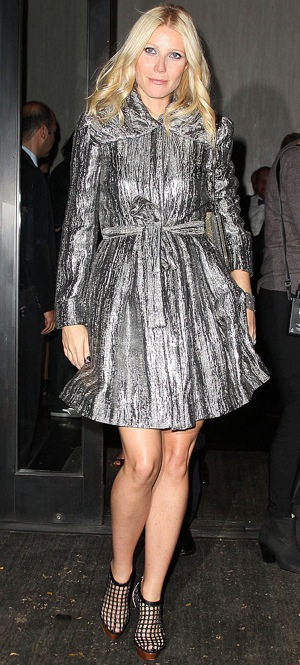 And look, here I am I in a coat on Friday evening. I have a split lip and I am wearing a dressing gown under the coat. I woke up on Saturday morning realising I was still wearing both the coat and a bra. I had, however, taken my shoes off, so good for me.
I say: Whoa. Is that a FULL packet of Hula Hoops? Gimme.
Gwynnie says: a macrobiotic diet may seem daunting at first, but just wait until you are reaping the health and wellbeing benefits. There are many delicious and simple recipes you can try!
I say: There are many things that are delicious and simple. Most of them are on this picture.
I also say: See that? The shrunken head? That's what happens when I try and eat healthily. No, I don't know what it is. Probably a vegan.
Gwynnie says: Your home is your special space. Fill it with beautiful things.
I say: There's a La Perla bra somewhere in this picture. See? Beautiful things. On the floor.
I say: that may very well be true.
Gwynnie says: Beautiful, sexy underwear will fill you with confidence.
I say: I do actually believe that. However I often end up wearing this. Go figure.