The spawn are off visiting OCD Brother in Law, so it's a weekend of pretending to be Audrey Hepburn in Roman Holiday, zooming around on the motorbike inappropriately dressed in the sunshine. If Audrey Hepburn had soup stains on her skirt and looked like a naked mole rat, that is. Yeah, ok, I wouldn't be the obvious first choice for Audrey. The wig reacts badly to the helmet, and my legs are far too short for capris. ANYWAY.
We're discussing first boyfriends and girlfriends, over pizza.
"Ah, Chris, the trainee teacher with the huge chin. I was sixteen. We used to do photography together, so we'd often be in the darkroom at the same time. Small room, dark, very close proximity. It was inevitable. He used to leave tiny slips of paper with typewritten poetry on them in my study overnight and I would come in and find them in the morning. It was SO romantic. I was totally obsessed. And of course, because he was a student teacher and I was a pupil, it had this added frisson of transgression that just made it even more exciting. Even though all we did was go and drink beer in the depressing old man pubs of North Yorkshire.
"He lived in Doncaster and when my mum finally agreed to let me go over and stay with him, HE told me that she had called him up and insisted on separate bedrooms and I resented her for YEARS for that and blamed her when we split up. When he dumped me I stalked him round all the pubs of York for months. I was sooooo miserable. Also, he never quite finished it properly so I was mooning about thinking that maybe he would get back in touch for ages. It was torture. Anyway, years later I mentioned it to her and she said she had never phoned him at ALL and he had completely made it up".
The CFO is frowning. "Doesn't it seem like ASKING for trouble to put a trainee teacher and some seventeen year old girls IN A DARKROOM together?
"I suppose so. Quaker school was a bit like that. The German teacher gave the A Level exam answers to the pretty girls with long legs and noone did anything about it. How about you, anyway?"
"Hmm. I can't remember her name but I do remember she was 16 and I was 14 which was a big coup for me. I used to have to cycle over and see her on Wednesdays because she went to a different school, and we had NOTHING to talk about so we would sit on a bench and just kiss. It was a real drag having to go and see her".
"Did she dump you?"
He tries to remember.
"Er.. I think I just stopped going. She wasn't that bothered. She was my first though".
"WHAT? You slept with her? She was your first and you can't remember her NAME? Jesus! I didn't even sleep with Chris and it took me, like, two years to get over him".
[Chris! I still haven't got over you! Call me! I know I vomited when I saw your penis, but it was only because I was really hypoglycaemic! Nothing to do with the actual organ!]
There is a point to this. Well, there isn't but now I've decided to make one. And given that times are really hard and I made you a pygmy jerboa out of crap from my dad's garden, I think you ought to play.
So. Please tell me about your first serious boy/girlfriend in the comments with the most dismal details possible. Best story wins a crap Belgian prize. Say, a Manneken Pis corkscrew, perhaps?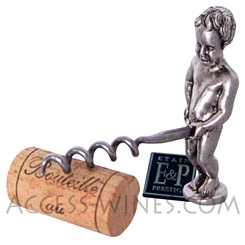 Go on. Please?