I had a perfectly nice day today, so I have nothing to whine and bitch about. It's an unfortunate, but thankfully rare, interruption to normal programming. I am sure tomorrow, with its promise of a family trip on the train to Antwerp, to visit Kai Mook the baby elephant, will not disappoint.
Instead let me tell you this.
My very best friend, Violet, the one:
- who is terrified of hedgehogs, and needles and the QUEEN of returning things to shops;
-who makes lists and lists and lists of lists and the most beautiful homemade Christmas cards;
- who loves the Ben Folds Five and ginger shapes from Bettys and jasmine tea;
- who has photos of me wearing a giant single leopard print wooden earring, a Liberty print waistcoat, leggings and a tie of my father's at the village hall in Tockwith;
- who once dressed up as Pigling Bland in needlecord knickerbockers despite being the ultimate fashion icon and an object of widespread veneration at quaker school (and incidentally still being the most beautifully artlessly stylishly dressed woman imaginable);
- with whom I spent three weeks in Italy aged 19, both of us eating nothing but Galak bars and ending up in an apartment without doors with a precocious toddler with a fecal retention problem, a depressive mute English woman with a fondness for roasting radicchio until it looked like a dead mouse, and an ancient vomiting, incontinent cat;
- who was THERE when I fell off a bike because I tried to look at a cow;
- with whom I spent 2 years sharing a pleasant obsession about a man in a van who worked for the 'House the Plumbers' on Monk Gate in York because he looked a little like Gary Speed: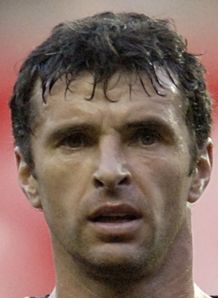 (Violet, I have included this picture for you, but urgh, why did we like him so much? Blind Leeds United loyalty? Because he looked marginally less like a donkey than the rest of the team? I was quite short sighted and he was always very very far away on the pitch. That's my excuse and I'm sticking to it).

- who makes me laugh until I ache all over all the time. Even when I am not tormenting her about her project on OWL PELLETS and she is not telling me about her colleague who believes that very economical fish called 'gonad' can be obtained from 'Arrods or when men's grey slip-on shoes are mentioned;
has had her baby.
Today.
A boy.
There was a whole lot more to this, about how strange it feels to be projected back seven years to lying eye to baleful newborn eye with my firstborn. The dazed, trench warfare terror and boredom. But no, this is the moment for me to shut the fuck up and just say how very very happy I am for her, and the Ginger menace and their new baby who has really lucked out with the most wonderful mother imaginable.
(
The Ginger Menace is pretty great too, but he's not holding any photos of me in Pat Butcher earrings
)