I feel I have a lot to say at the moment. Seriously, I could DROWN you all in humourless introspection, but (thankfully) it is a little tangled and keeps getting overtaken by:
1. People getting in the way, usually bodily, between me and the laptop. Small ones with long pointy fingers and endless demands and large ones with technical and medical and administrative questions, tortoises to find and spreadsheets to adjust. Violet did not get in the way, but I did want to spend all my time sucking her essence out, vampire style, leaving only an empty husk to send home to London, so I could keep her and take her out and stroke her as necessary. That came out far more disturbing that it sounded in my head, where it seemed like a perfectly reasonable proposition.
2. My failure to deal with the proofs of The Tedium Files - The Revenge (newer readers: this is not an actual book, but a Eurotedious looseleaf work of endless references and tables. It has sold a staggering ONE HUNDRED AND ELEVEN copies to date, allowing my Euromaster to bust out and buy himself a new C&A suit), due, um, tomorrow I think. Untouched. In one of those free bags from a
WTF
magazine. Not even sure which one of the thirty five bags that lie around the house filled with biscuit debris and expired tram passes and unpaid bills. Eh. (imagine that said Greek style with a fatalistic shrug).
3. The guilt and need for subterfuge when blogging after my recent designation by the CFO as an "addict". I keep having to find plausible activities that could take me into the room where the laptop lives, an enterprise complicated by the fact that apart from the computer it only contains the tortoise house, the crayons and cutting and sticking cupboard, and the piano.
"I was just, er, playing the piano. Really really quietly".
"Yeah, just a bit of colouring in. Look! I barely went outside the lines at all on this, um, blob?!"
"I've been observing the torts. Do you not think number 4 is looking a little off colour? Oh? That's not number 4? It's a piece of bark? Sorry".
So for now, and for the greater good of all, I will limit myself to one piece of Eyeore-esque musing tonight.
Does anyone else do this Thing?
The Thing is as follows. Let's have a picture first to break things up a bit.
A
Betty's
Fondant Fancy Celebration Cake (yes, please, Betty's a free one would be very welcome indeed):
Another? Ok.
Some baby naked mole rats: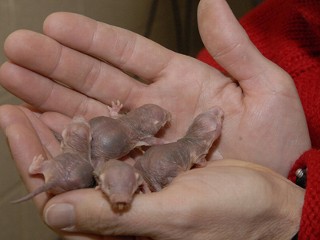 Well you did ask.
Moving on.

I am a shit host. A REALLY bad host. And it's not because I don't care, or I believe my visitors should take me as they find me (because then they would all get toxoplasmosis or a tapeworm or something, and even I, hospitality retard that I am, know that isn't nice). I'm good before they arrive - I can change the bed and buy flowers and provide towels and ensure that the dog hasn't done anything unspeakable under the spare bed. I am gleeful that they are coming (except OCD brother in law). But when they arrive, I become weirdly, paralysingly shy and anxious and unable to act in anything remotely like a normal, welcoming manner.


Things I cannot do:

- Suggest - or even think of - pleasant activities for us all to do with the Unfortunate Guests. Everything I can think of seems unutterably lame, or doomed to failure (what with entirely incompatible interests of a surly martial arts Pokémonomaniac, a mildly obsessive compulsive secretive dancing biscuit fan, the monosyllabic CFO, me - consumed with anxiety - and the Unfortunate Guests). I don't even want to suggest things in case they think it's a terrible idea but feel compelled to come anyway. I am hunched with embarassment and awkwardness if I have to proffer something as innocuous as a walk in the park. 'Nooo!' say the voices 'That's a stupid idea! They'll HATE it. Shut up'.

- Offer food and drink appropriately. Ok, we have established over the past 11 months that I am pretty weird around food, but when people are staying I seem to project my neuroses onto them in an unhelpful fashion. Things I can do: make cups of tea. Buy food and place it on the table in a pleasing configuration. Things I cannot do: ask people what they would like and make it for them. Sit and share meals without agonising about whether it is ok, whether they are eating to be polite and whether it would be pushy and unbearable to offer them dessert. BE NORMAL. I am just so lumpenly, cringingly awkward. Sometimes I just have to leave the room because I can feel my own loomingly unnatural presence becoming unbearable. I am a freak.
- Accept that if people have come to see me, they must to some degree want to actually see, or spend time with me. Instead, I sort of mutely offer my children forward as a nicer, more entertaining, decorative version of me. And now, of course, I can mutely offer the weepette too. Look! I have nothing to offer you, but here are some moderately entertaining small children and a very strokable dog.
- ACT NORMALLY. I become this twitching, eye popping mass of self-doubt that lurks in the corner of the room scuffing one shoe against the other and elaborately over-thinking the simplest of things.
I think I always hoped this would come with age, and I would mature into one of those people it's a pleasure to come and stay with, where you can be entertained or not, fed or not, and looked after in a low key but lovely fashion. It has become apparent that I am not. Noone will ever want to come and visit me, because I will just loom, google eyed at them, and blush and make strangled noises as I try to ask if they want a biscuit.
That is all. I am not going to beg you to tell me I am normal, because I know I'm not. Just, if I invite you to stay, you might want to consider other options.