I was feeling quite good this morning. Little black dress (cheapo, but clean), unladdered Wolfords, red shoes with minimal visible bite marks. My white Comptoir des Cotonniers jacket, which is nonsensically high maintenance, but for about a day a month, before I spill something on it, manages to make me feel I can lead a high maintenance life. I crossed the road heading to the Corridor of Ennui at a jaunty trot.
As I trotted across the Sablon feeling springlike and frisky, though, I realised I was trailing a vision. A perfect, extraordinary vision of female loveliness: an impossibly slender blonde giantess, nudging six feet in spike heels. A graphic print yellow dress falling at the upper end of mid thigh and a black leather jacket showcasing her gorgeous long shiny hair. Amazing; the kind of woman you can't take your eyes off. Stalking down the street just ahead of me. I came up to approximately her navel. You know when you see someone who is SO very different from you, that you can hardly believe you belong to the same species? It was like comparing a Dik Dik and a naked mole rat.
Dik Dik


Naked mole rat.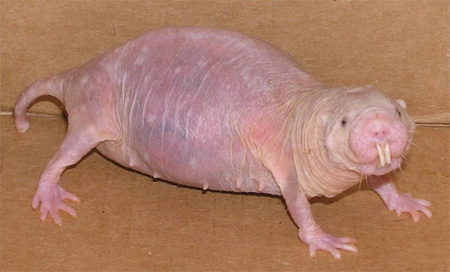 (I do not mean this to be perjorative in anyway towards naked mole rats. I have an obvious and longstanding affinity with them.)




So the Dik Dik strode on gracefully on dainty hooves and the naked mole rat scurried behind, its belly trailing gracelessly along the floor. There were some builders. There are always some builders, aren't there? Especially here. The CFO nourishes a belief that Brussels city government is on a single handed crusade to turn around the financial apocalypse by employing teams of men to dig holes, then fill them in again. The builders totally stopped pretending to look at their hole and gave their full attention to the Dik Dik. One of the builders in particular was even shorter than the naked mole rat but this did not stop him shifting around several times to get a better view of the Dik Dik, and making lustful grunting noises. The other builders leant on their shovels and made matching phwoar, woar noises. The whole of the Sablon, it appeared, was in agreement that the Dik Dik was extremely decorative.


The naked mole rat, even in red shoes and a springlike white jacket, with barely any stains, followed the Dik Dik, unseen. Less and less jaunty. It no longer felt like tossing its sparse, dull hair. It dragged its mole rat claws all the way to the office and had six chocolate eggs.

The naked mole rat wondered whether the Dik Dik might give it a turn of that body. That body looked much more fun than the naked mole rat's pink, wrinkled, translucent pelt. Just for five minutes? Just to see how it felt?



There are several kinds of bodies I would like to try.



(i) The Dik Dik. Just to know how it feels to be ludicrously beautiful. I can imagine it would quite wearing after a while, but a little turn of those long long legs and that hair would be so much fun.

(ii) Androgyny. I would kill to look bony and androgynous. I want a concave chest and skinny twiglet legs, so I can wear Jil Sander style shirts and trouser suits without looking like I am in the Salvation Army. I would have serious difficulties giving this body back, I think. I would want to keep it forever, whatever the fine might be for hanging on to an overdue body.

(iii) Alex Wek. How fucking fantastic would that be? That woman is BEAUTIFUL. I started trying to find a photo of her to steal but they were all so amazing I ended up looking at hundreds, in a trance.


"Her tongue is on fire" as The Bloggess would say.



(iv) Then, just for kicks, I suppose I should be a man. I'm not remotely tempted, I must say, but much as occasionally one borrows library books for duty, rather than pleasure, I feel I ought to. One of those swimmers with enormous shoulders perhaps? I got a bit obsessed by this man during the Olympics.




Not in a lustful way. Just, HOW big are those shoulders? I mean, how does he find clothes? He looks like a giant, steroidal weepette,all powerful paws and tiny shrunken head! Looking now, I see he is a gendarme. Look how adorably gormless he looks in his uniform!
Now I am all distracted at the thought of those giant shoulders directing traffic.
Whose body would you borrow and why?