There is a distinct note of panic in the CFO's voice as he calls me in from the kitchen.
"
Bébé
? Please hurry. Don't leave me here alone".
There is a very good reason for his terror. In a minute "
Le Plus Grand Cabaret du Monde
" is starting on
France 2
. The remote control is not in his hand. If I don't come back, he might end up seeing a few seconds of it.
French tv is terrible. Saturday night tv the world over is terrible - a hideous, biblical punishment for anyone who is pathetic enough to be home on a Saturday night. But, oh, the worst thing in the whole world ever, is Saturday night on
France 2
. Saturday night on
France 2
is designed to make you feel so bad about yourself and the fact you are at home a Saturday night, that after a few minutes, death seems preferable. You will question, despairingly, the series of choices that have led you to this moment. But there are no answers, only the menacing sound of an accordeon starting to play rugby songs.
The evening is hosted by this creature.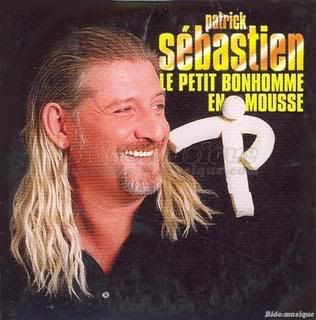 Patrick Sebastien for whom no evening is complete without a pair of false breasts, seven hundred off-colour jokes, some spandex and a multitude of joyful rugby songs. "Patrick Sébastien, toujours prêt à faire la fête" says the official commentary on France 2's website. Well, yes. To our eternal torment, yes. Reader, I do not believe in hell. But if it exists, Patrick Sébastien is running it and he wants us to get up and dance. I like to think, grand visionary that he was, Sartre was imagining Patrick Sébastien when he wrote "l'enfer, c'est les autres". If he were alive today, I am confident he would be lighting another Gauloise, getting Simone de Beauvoir to find his socks and intoning "l'enfer, c'est le Plus Grand Cabaret du Monde".


Your evening will feature ALL of the following:

- an accordeon solo. Actually, make that five or six accordeon solos;
-clowns doing their immeasurably disturbing clown stuff. But French style (WORSE! Marcel Marceau didn't just appear out of nowhere, you know);

- several "risqué" circus act with bare breasted ladies and men in leotards;

- hilarious cross-dressing antics;

- communal singing of ribald rugby sounds to collective hilarity;
- surreally unfunny comedy duo "Shirley & Dino";
- a singing piece of sponge (I know - that could be good! Trust me. It isn't.);
- a wide range of French comedians. French comedians are the reason why existentialism was invented. The French needed a vocabulary, a discourse, if you will, to deal with the horror of their comedians. Yes. It is true. I will write you a thesis on it if you so wish.
The CFO and I are made of fairly stern stuff when it comes to television. We have not gone out on a Saturday night for very, very many years and we bear the scars. The weirdly immobile face of Charlie from Casualty holds no fear for us. We can watch Antiques Roadshow with equanimity, even a modicum of enjoyment. The CFO in particular has an endless appetite for bizarre Channel Five shows in involving large pieces of exceptionally dull machinery ("The World's Greatest DAMS/DUMPER TRUCKS/CORKSCREWS"). I have seen my share of Australian soap opera and I love something called "C'est du Belge" where you get to see around the hunting lodges of the Belgian aristocracy, and find out about the best way to prepare your speculoos. We aren't what you would describe as 'demanding'. But Le Plus Grand Cabaret du Monde is a quantum leap further.
I am telling you this as a public service. If you are ever invited by a French person to watch anything described as a "divertissement" or featuring Patrick Sébastien, just say no. Listen to this and you will no longer doubt me.
I defy you to tell me about a worse tv programme than this. Go on, go on, go on.