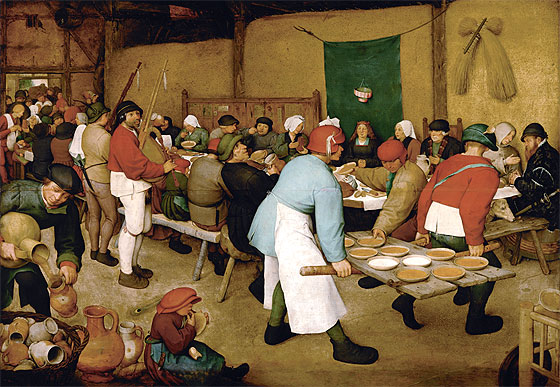 So your appetite for tractor based reportage and social commentary is limited. Too Belgian? I hear you, internet, and being the craven people pleaser I am, I promise to abstain from agricultural machinery in future. Sorry
Léonie
.
The picture above is posted on the lift to the corridor of ennui, with the following seductive promise:
'Brueghel themed bar night! Tomorrow! On the seventh floor! Fresh baked bread and a selection of beers!'.
I am finding the whole concept a little challenging. Being the Eurodrone I am, my questions instantly took the form of a numbered list. Yup, you really wouldn't want to be in my head. I'm sparing you the sub-paragraphs and roman numerals, but trust me, they're there.
1. Why
2. Why
3. Why
4. Why lord, why
5. How?
6. Look! They wore turbans back then too! This custom has deep roots! I should show Belgian turban wearing more respect.
7. Fresh baked bread? From the canteen? Those people shouldn't be allowed to handle live yeast.
8. What will they be wearing? I really hope there isn't doublet and hose. Oh god. Pantaloons. Knee britches.
9. What am I doing in this country
10. What should I wear?
Thoughts, anyone?